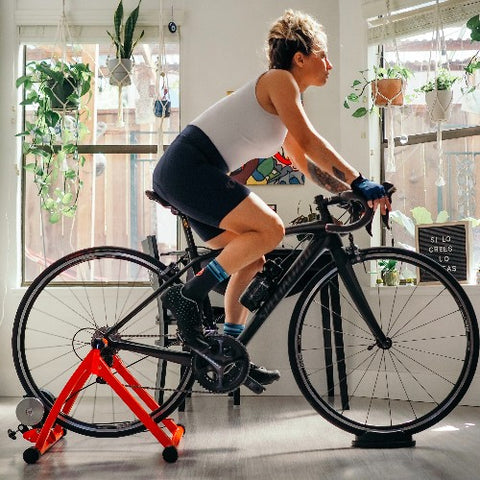 Indoor bike trainer
Cycling is a great way to stay fit and offers a wealth of health benefits. It varies in levels of intensity, making it a suitable type of exercise for people with different fitness levels. However, ever since phrases like "stay at home" and "social distancing" became part of our lives, everyone has been looking for alternative ways to exercise at home to stay safe and healthy. Fortunately, cycling does not have to involve going outdoors – indoor bike trainers can help you ride inside!
What are indoor bike trainers?
An indoor bike trainer (also known as bike exercise stand, stationary bike stand, etc.) is a piece of equipment that allows the rider to ride while the bike remains stationary. It keeps your muscles pumping and legs spinning without leaving the house. They come in handy especially during winter, when cold weather and limited daylight make cycling conditions unfavourable. During the pandemic, riding inside also keeps you safe from exposure to crowds.
Although there are many variations of each, there are three general categories of indoor bicycle trainers, including rollers, stationary trainers, and stationary bikes.
A roller is the most basic type of trainer. It does not hold your bike in place; instead, the bike is perched on top of three cylindrical drums that spin in a set frame laid on the floor. Using a roller requires some level of technique. You need to balance your bike on the roller properly to achieve a good cycling experience.
A stationary trainer is the best option for most cyclists. It is composed of an upright frame that holds the bike in place as you ride. Storage and transport are less of a hassle as it is more compact than stationary bikes. Current models on the market offer a great variety of features that come in a wide range of prices.
A stationary bike is a stand-alone unit that allows you to pedal without a bike. It reproduces a realistic cycling experience and does not require attachment of any external parts. The stationary bike is extremely stable and safe, but the major drawback is its cost. Most cost over $1000.
Things to consider when choosing a bike trainer
Once you have a general idea of which type of bike trainer suits your tastes, you still need to consider other factors that may affect your overall cycling experience with the trainer. Here are some things to think about before purchasing a stationary bike trainer:
Noise: While immersing yourself in an intense workout session, you may not take much notice of your surroundings – including how noisy the indoor bike stand may be. With family members staying at home more often during the pandemic, quieter bike training stands are much preferred for their comfort. Fortunately, most manufacturers do put in effort to lower noise levels of their trainers.
Stability: When exercising on a bicycle stationary stand, safety is the top priority. Crashes are uncommon but not unheard of. Therefore, before purchasing a bike stationary stand, you should pay attention to its stability. Generally, broader trainer bases are more stable. Certain models have a levelling feature for uneven surfaces.
Smart trainers: Unlike classic trainers, smart trainers can be connected to the internet and communicate with training apps on your smartphone. Current apps offer a range of features, from simply recording mileage to introducing virtual riding worlds. Note that smart trainers are usually more expensive, and some apps may require purchasing extra parts for your trainer.
Wheel-on or direct drive: A wheel-on trainer is a traditional type of trainer where the rear wheel stays on the bike. Resistance is created through friction as the tire pushes onto the resistance unit. Therefore, tires that have high heat resistance are more appropriate for these types of trainers. A direct-drive trainer requires you to take off the rear wheel of the bike and substitute it with the resistance unit. This type of trainer provides a more smooth and realistic riding feel while minimizing wear and tear of your own gear.
Fluid or magnetic resistance: Bike stands for indoor riding may use different mechanisms to generate resistance. Those that use fluid resistance increase resistance as you pedal faster. This type of trainer produces the smoothest ride feel, but you do not have the option of adjusting resistance levels. You can control resistance levels of trainers that use magnetic or electromagenetic resistance, however. This is typically done through a lever-actuated cable or smartphone app, which gives you more flexibility during a workout.
Sportneer bicycle trainer stand is one of the best bike trainers out there
Sportneer's high-quality magnetic bike trainers are safe, quiet, and easy to use. They produce realistic cycling experiences at a cost of only $149.99.
At first glance, the smooth, seamless design will catch your eye immediately. You have a choice of two colours: red and black. The trainer is highly compatible with most bikes. It fits any road or mountain bike with a 26 to 28'' or 700c wheel with a rear wheel axel between 4.92' to 6.57'.
The folded size is relatively compact, measuring 22 x 18 x 6 inches. Removing your bike is also very convenient with a press-down lever clamp. Compact size and easy release allow convenient transportation of the bike stand if you wish to do so.
Stability is key to ensuring safety when riding a trainer. Sportneer's bike trainer is built with a wide base and low stance for optimal stability. There are 5 adjustable anti-slip rubber feet to minimize risks of crashes on uneven flooring.
Noise reduction resistance wheels minimize any unwanted noise. You do not have to worry about bothering your family during a training session.
Using magnetic resistance, Sportneer's bike trainer offers 6 different levels of resistance settings. You can train to your own standards with a bar-mounted remote to simulate various types of riding conditions.
With amazing products comes amazing after sales services. Sportneer's customer service team is always passionate and ready to help. If you are not happy with the product you received, do not hesitate to contact them. They have a 100% response rate to customer messages on Amazon and will work with you to provide a satisfactory solution.